Excel Spreadsheet Consulting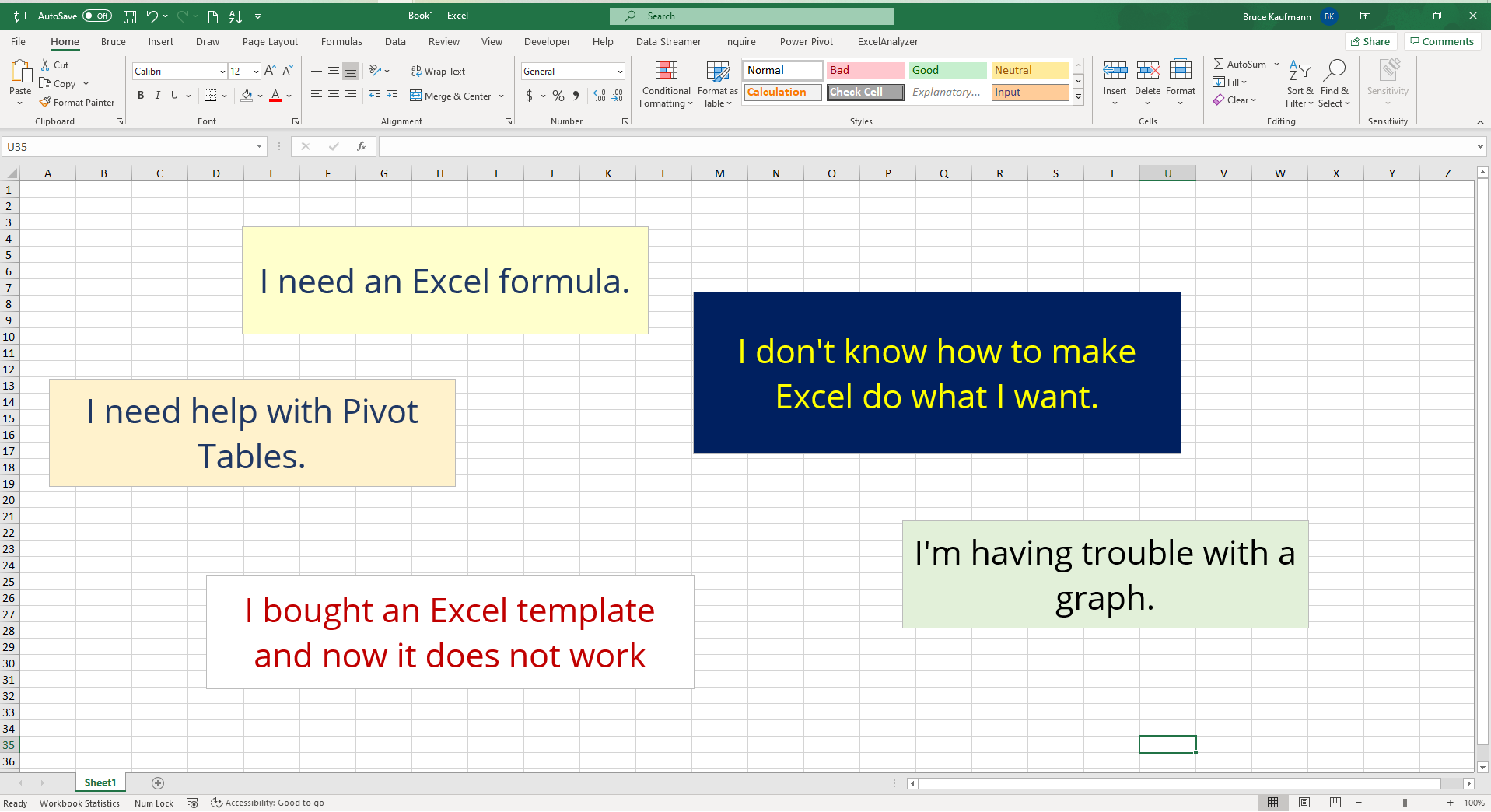 If you need a quick answer or something more, contact me.
If I can fix your problem quickly, I won't even charge you.  
You need answers, not problems from your spreadsheet.
You want accurate data, not hours of troubleshooting.
You need a quick fix to a spreadsheet problem, not time wasted in help pages, YouTube videos, or random blogs that don't address your specific challenge.
Every minute you're working on your spreadsheet, you're not working with your spreadsheet's data.
How I Can Help 
It doesn't matter if you're challenged by a formula, function, or formatting.  I can bring my combination of business experience and spreadsheet expertise to help you get your spreadsheet doing what you want it to.
Some of my clients have said to me: "I want you to fix this spreadsheet, but I also want to learn how you did it." So I am happy to take the time to help you understand how your spreadsheet works and what else it can do for you.
Other clients have said: "You took the time to understand not just my spreadsheet problem, but also what I was trying to accomplish with it." My approach helps you not only fix, but improve your spreadsheet, saving you time, headaches, and worry. 
Nothing makes me happier than hearing a client say, "I had no idea that was possible!"
My goal is your success, and I will do what it takes to turn around your spreadsheet hassles, so you can make confident decisions, trust your data, save time, and reduce stress.
My Process 
I have helped hundreds of people worldwide define and solve critical business issues with their data, with highly functional, user-friendly, practical, manageable, and beautiful spreadsheets that make life easier. Here's how:
I

take time to get to know your spreadsheet challenge and the underlying business objective. 

I will

share a solution (including a mockup) that fits your needs, give you a fair price, and get your approval before I ask for an initial payment to start the work.

I will

deliver a solution that makes your life easier, and if you are not 100% satisfied, you don't pay the remaining balance.
My Promise
I promise that if we work together, you will be better able to get the information you need quickly and easily from your spreadsheets, without errors – so you can spend your valuable time where your attention belongs, with much less stress, and increased effectiveness.  

​"I provided Bruce with a brief and he responded so quickly, outlining the job to make sure we both agreed with the scope before proceeding and quoting. So appreciate Bruce's videos explaining everything and developing the spreadsheet. Will work with Bruce again. Highly recommend."
Jenniferberry

​"The best communication and turnaround time I have ever experienced… Bruce took an Excel file I was attempting to formulate myself and made it fully functioning to what I was envisioning in only a matter of days." 
Revisionpropwa

"Fantastic resource…not only handles complex tasks but teaches the tricks. Tremendous value! The best Excel resource I have found yet. Responsive, knowledgeable, and teaches the concepts he uses. First class all the way"
Tiedemannbrian
Let's Talk
No matter your spreadsheet challenge, I can help you fix it, build it, or model it. 
Not every conversation should require payment.  If I can help in a 10-15 minute call, I won't charge you. 
Contact me.  I will be straight with you and let you know if I can help.