Excel Spreadsheet Consulting
Every minute you spend working on your spreadsheet is a minute – lost forever – that you can't spend growing your business!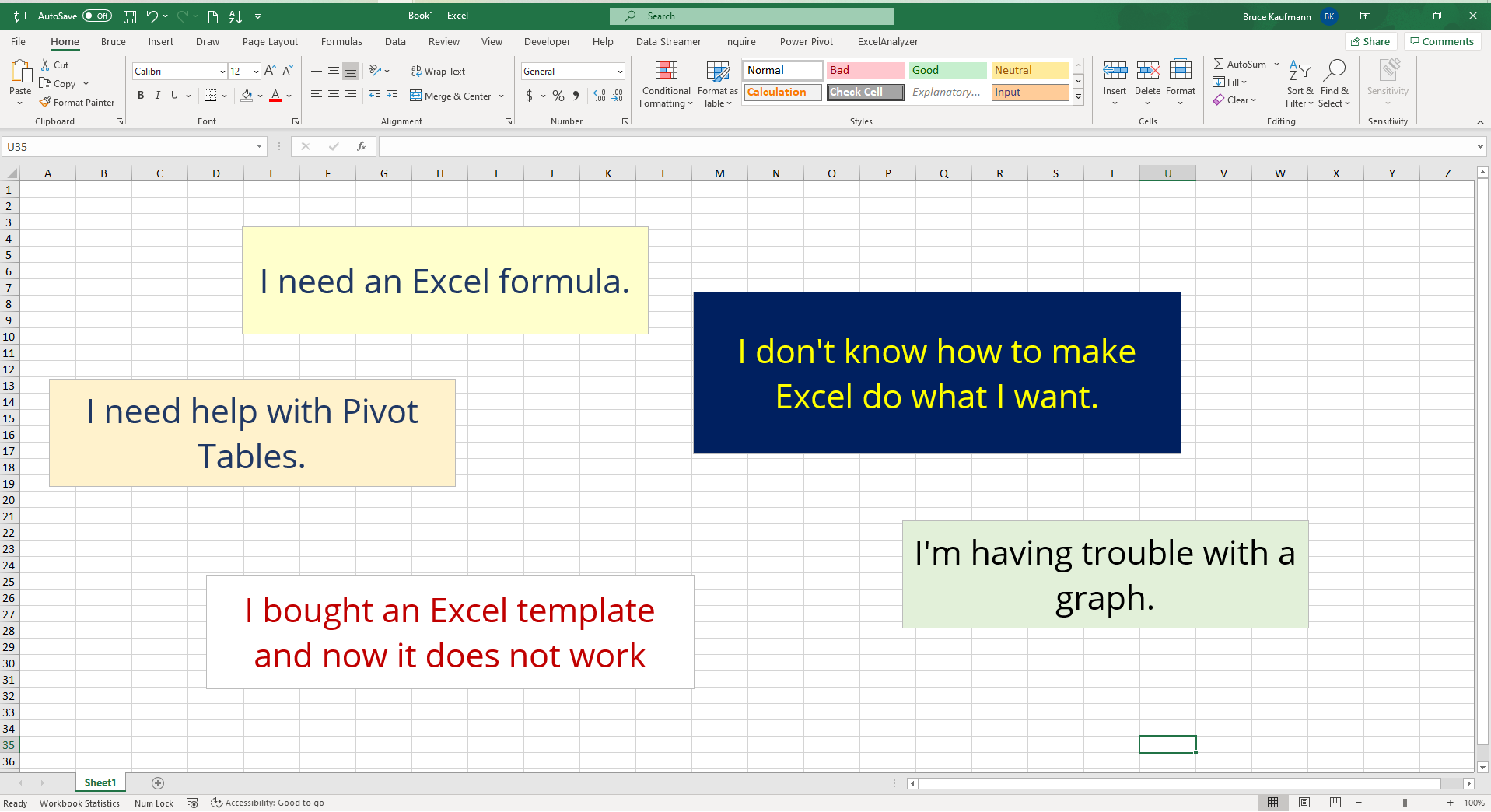 Let's Talk
No matter your spreadsheet challenge, I can help you fix it, build it, or model it.
Contact me.  Let's have a conversation to determine what you need and how I can help you achieve it.
You need answers, not problems from your spreadsheet.
You want accurate data quickly, not hours of updating reports.
You need a quick fix to a spreadsheet problem, not time wasted searching in YouTube videos or random blogs that don't help you.
What's Making You Frustrated?
Difficult formulas?
Confusing charts?
Complicated pivot tables?
Inaccurate data?
Long update times?
It doesn't matter – I'll do whatever it takes to deliver the spreadsheet you need. 
You'll be able to trust your data and make critical decisions quicker and with less stress.
How We Will Work Together
First, we discuss your current situation.  You must be certain that I understand what is and isn't working, what you want to change – and why.  What does success look like, including format, user interface, and integration with your current processes?
Second, I propose a solution, so you know exactly what you will receive and your cost before you commit any funds.  You only make a payment if you agree to move forward, so your financial risk is minimized.
Third, I deliver your spreadsheet tool, after collaborating with you as needed to ensure you are 100% satisfied that the tool I deliver will solve your business problem.
Why Choose Me? 
I'll let my clients answer that question.
Brian T., a medical staffing agency manager engaged me to create a spreadsheet scheduling tool:  "Fantastic resource… not only handles complex tasks but teaches the tricks.  Tremendous value!  The best Excel resource I have found yet.  Responsive, knowledgeable, and teaches the concepts he uses.  First class all the way!"
Drake S., who has engaged me to create several forecast models for his startup companies:  "Bruce was ultra responsive, highly professional, and delivered well beyond my expectations.  It's always a risk when outsourcing, but I can't highly recommend Bruce enough and will engage his services again in the near future."
Lynette A., a chef who created a food kit membership website:  ​"As a first time founder and CEO it was a blessing to work with Bruce on my financial model – he was able to simplify my template into something that I am able to operate by myself. He was also great to talk with in general and provided some great insights beyond the spreadsheet.  Thanks, Bruce!"
Adip B., my first international client, needed improvements to the spreadsheet he used to measure employees' daily activity:  "Bruce is the epitome of patience and skill. He is helping a total novice like me develop an Excel worksheet to calculate salary and stock of the goods my factory produces. He is very patient, understanding and diligent in his work. I have found working with him very pleasurable."
You can read more of the many positive reviews I have received by clicking here.
My Promise To You
The spreadsheet I deliver to you is your work product.  You will receive all source files, including code (if any).  I will not password-protect any part of the file.
I offer lifetime support, at no charge, for any errors that become known after the project is complete.  Errors are formulas or coding that give the wrong result.  Errors are not the same as modifications, which are changes to a formula or coding to produce a new or different result.
​"I provided Bruce with a brief and he responded so quickly, outlining the job to make sure we both agreed with the scope before proceeding and quoting. So appreciate Bruce's videos explaining everything and developing the spreadsheet. Will work with Bruce again. Highly recommend."   Jennifer Berry
"Fantastic resource…not only handles complex tasks but teaches the tricks. Tremendous value! The best Excel resource I have found yet. Responsive, knowledgeable, and teaches the concepts he uses. First class all the way"    Brian Tiedemann